Resumen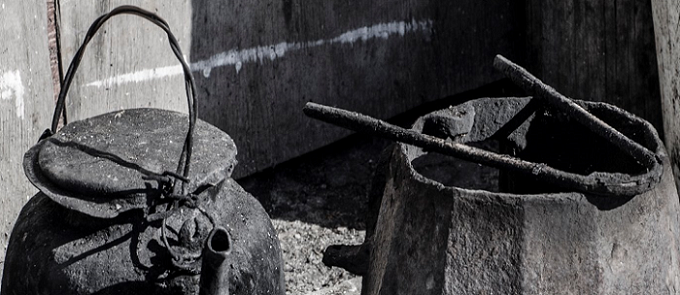 La complejidad de los problemas socio-ambientales actuales exige nuevos abordajes.  Alcanzar una sociedad menos desigual y ambientalmente sostenible, requerirá no solo cambios tecnológicos e institucionales, sino que también demandará transformaciones profundas en la gobernanza y en los valores sociales que la sustentan. Con el fin de contribuir a dichas transformaciones, han surgido aportes críticos y emancipadores que plantean un cambio paradigmático en la producción de conocimiento para la acción superando las fragmentaciones disciplinares. Inspirados en estos abordajes, en este artículo proponemos las bases conceptuales para la creación de un T-Lab como un espacio de innovación creativa que permite experimentar en la producción de conocimiento a partir de enfoques transdisciplinarios. El T-Lab se orienta al trabajo con problemas socio-ambientales que se caracterizan por ser cada vez más globales, complejos, inciertos y dinámicos, con valores en disputa sobre las posibles hojas de ruta a seguir en los procesos de transformación social. Su desafío está en generar una nueva meta-narrativa sobre la generación de conocimiento y la innovación para desarrollar las capacidades necesarias (anticipación, síntesis, catálisis) para que la sociedad pueda navegar la incertidumbre, complejidad y ambigüedad.                                                                                                                                                               
Citas
Apostel, L. et al. (1972). Interdisciplinarity, problems of teaching and research in universities. Paris: OECD publications.
Ahlqvist, T. y Rhisiart, M. (2015). Emerging pathways for critical futures research: changing contexts and impacts of social theory. Futures, 71, 91-104.
Ansell, C. K. y Bartenberger, M. (2016). Varieties of experimentalism. Ecological Economics 130, 64-73.
Ansell, C. y Geyer, R. (2016). Pragmatic complexity'a new foundation for moving beyond
'evidence-based policy making?. Policy Studies, 38(2), 149-167.
Ansell, Ch. y Torfing, J. (2014). Public Innovation through Collaboration and Design. Routledge Critical Studies in Public Management.
Argyris, C. y Schön, D. (1978). Organizational learning: A theory of action perspective. Addison Wesley, Reading, Mass.
Bammer, G. (2013). Disciplining interdisciplinarity: Integration and implementation sciences for researching complex real-world problems . Canberra: ANU Press
Bason, C. (2010). Leading Public Sector Innovation: Co-creating for a Better Society. Bristol: Policy Press.
Berkes, F., J. Colding, J. y Folke, K. (2003). Navigating social-ecological systems: building resilience for complexity and change. Cambridge University Press, Cambridge, UK.
Bobrow, D. B. y Dryzek, J.S. (1987). Policy Analysis by Design. Pittsburgh: University of Pittsburgh Press.
Bos, J. J., Brown, R. R. y Farrelly, M. A. (2013). A design framework for creating social learning situations. Global Environmental Change, 23(2), 398-412.
Brugnach, M. et al., (2008). Toward a relational concept of uncertainty: about knowing too little, knowing too differently, and accepting not to know. Ecology and Society, 13(2), 30.
Cash, D. W. et al., (2006). Scale and cross-scale dynamics: governance and information in a multilevel world. Ecology and Society, 11(2), 8.
Chesbrough H. (2003). Open Innovation – The new imperative for Creating and Profiting from Technology.
Cumming, G. S. et al., (2013). Resilience, experimentation, and scale mismatches in social ecological landscapes. Landscape Ecology, 28, 1139-1150.
Dash, A. (2015). An Epistemological Reflection on Social and Solidarity Economy. Forum for Social Economics, 45:1, 61-87.
Dewey, J. (1927). The Public and Its Problems. New York: Holt, 1927. London: Allen & Unwin, 1927, republished as The Public and Its Problems: An Essay in Political Inquiry. Chicago: Gateway, 1940.
Drieschova, A., y Fischhendler, I. (2012). A toolkit of mechanisms to reduce uncertainty in international water treaties. Jerusalem: The Hebrew University of Jerusalem. CLICO project.
Dryzek, J. S. (1983). Don't Toss Coins into Garbage Cans: A Prologue to Policy Design. Journal of Public Policy 3, 345-67.
Fazey I. et al. (2017). Transformation in a changing climate: a research agenda. Clim Dev http://dx.doi.org/10.1080/ 17565529.2017.1301864.
Feola, G. (2015). Societal transformation in response to global environmental change: a review of emerging concepts. Ambio: 44, 376-390.
Fischer, J. et al. (2015). Advancing sustainability through mainstreaming a socialecological systems perspective.
Folke, Carl et al. (2010). Resilience Thinking: Integrating Resilience, Adaptability and Transformability. Ecology and Society 15(4).
Folke, C. (2016). Resilience (republished). Ecology and Society, 21(4), 44.
Funtowicz, S.O. y Ravetz, J.R. (1993). Science for the post-normal age. Futures 25, 739–755.
Geels, F. W. y Kemp, R. (2006). Transitions, transformations, and reproduction: dynamics in socio-technical systems. M. D. McKelvey and M. Holmén, (ed.). 227-257. Flexibility and stability in the innovating economy. Oxford Scholarship Online Monographs, Oxford, UK.
Glatzeder, B. (2011). Two modes of thinking: evidence from crosscultural psychology. S. Han and E. Pöppel, (ed.). 233-247. Culture and neural frames of cognition and communication: on thinking. Berlin: Springer.
Gunderson, L.H., Holling. C.S. (ed.) (2002). Panarchy. Washington: Island Press.
Jantsch, E. (1972). Towards interdisciplinarity and transdisciplinarity in education and innovation. En L. Apostel, G. Berger, A. Briggs, & G. Michaud (eds.), Interdisciplinarity, problems of teaching and research in universities, 97-121. Paris: OECD Publications.
Latour, B. (2004). Politics of nature: how to bring the sciences into democracy. Cambridge: Harvard University Press.
Habermas, J. (1972). Knowledge and human interests. Heinemann, London
Hirsch G.H., Pohl C. y Bammer, G. (2010). Chapter 30: Solving problems through transdisciplinary research. Froderman,R.,Thompson K. J. y Mitcham, C. (eds.) Oxford: The Oxford Handbook of Interdisciplinarity,431-452.
Hoffmann, S., Pohl, C. y Hering, J. G. (2017). Exploring transdisciplinary integration within a large research program: empirical lessons from four thematic synthesis processes. Research Policy 46(3),678–692. http://dx.doi.org/10.1016/j.respol.2017.01.004
Inwood, H. J. (2008). At a crossroads: situating place-based art education. Canadian Journal of Environmental Education, 13 (1), 29-41.
Jackson, M.C: (1990). Beyond a system of systems methodologies. J Oper Res Soc 41:657–668.
Jahn, T., Bergmann, M. y Keil, F. (2012). Transdisciplinarity: between mainstreaming and marginalization. Ecological Economics 79:1–10.
Jasanoff, S. (2004). States of Knowledge: The Co-production of Science and the Social Order. London: Routledge.
Jones, P. y Kijima, K. (2018) Systemic Design Theory, Methods, and Practice. Toronto Canada: Springer.
Kagan, S. (2008). Sustainability: a new frontier for the arts and cultures. Was Verlag Für Akademisch, Frankfurt, Germany.
Kajikawa, Y.; Saito, O. y Takeuchi, K. (2017). Academic landscape of 10 years of sustainability science. Sustain. Sci. 12, 869–873.
Kates, R. W. et al. (2001). Sustainability science. Science, 292(5517), 641–642.
Klein, J. T. (2001). The discourse on transdisciplinarity: An expanding global field. In J. Thompson Klein, W. Grossenbacher-Mansuy, R. Häberli, A. Bill, R. W. Scholz, & M. Welti, (eds.). Transdisciplinarity: Joint problem solving among science, technology, and society: An effective way of managing complexity (35-45). Basel, Switzerland: Birkhäuser.
Lang, D. J. et al. (2012). Transdisciplinary research in sustainability science: practice, principles, and challenges. Sustainability Science 7(S1):25–43. http://dx.doi. org/10.1007/s11625-011-0149-x.
Leeuw, S. (2011). Tipping toward sustainability: emerging pathways of transformation. Ambio, 40 (7), 762-780.
Leff, E. (2009). Degrowth, or deconstruction of the economy:Towards a sustainable world. Occasional Paper Series No.6, In Contours of Climate Justice, Critical Currents. Uppsala: Dag Hammarskjo¨ld Foundation.
Luederitz, C. et al. (2016). Many pathways toward sustainability: not conflict but co-learning between transition narratives. Sustainability Science.
Luthe, T. (2017). Success in transdisciplinary sustainability research. Sustainability 9(71). http://dx.doi.org/10.3390/su9010071
Manzini, E. (2015). Design, When Everybody Designs. Cambridge, MA: The MIT Press.
McGregor, S. L. T. (2015). The Nicolescuian and Zurich Approaches to Transdisciplinarity. Integral Leadership Review (April-June), 6-16.
Meadows, D.H. et al., (1972). The Limits to Growth: A Report for the Club of Rome's Project on the Predicament of Mankind. New York: Universe Books.
Midgley, G. (1996). What is this thing called critical systems thinking? En: Flood RL, Romm NRA (eds) Critical systems thinking: Current research and practice, Plenum, New York
Midgley, G. (2000). Systemic intervention: Philosophy, methodology, and practice. Kluwer/Plenum,NewYork.
Stojanovic, T. et al. (2019). The '"Social " Aspect of Social-Ecological Systems : A Critique of Analytical Frameworks and Findings from a Multisite Study of Coastal Sustainability.
Ostrom, E.; Janssen, M.A.; Anderies, J.M. (2007). Going beyond panaceas. Proc. Natl. Acad. Sci. USA, 104, 15176–15178.
Özbekhan, H. (1970). The Club of Rome – The Predicament of Mankind: A Quest for Structured Responses to Growing World-Wide Complexities and Uncertainties. Philadelphia, PA: University of Pennsylvania: Management and Behavioural Science Center.
Patterson J. et al. (2016). Exploring the governance and politics of transformations towards sustainability. Environ Innov Soc Transit. http://dx.doi.org/ 10.1016/j.eist.2016.09.001.
Piaget, J. (1972). The epistemology of interdisciplinary relationships. En L. Apostel, G. Berger, A. Briggs, & G. Michaud (eds.), Interdisciplinarity, problems of teaching and research in universities. Paris: OECD publications.
Pohl, C. and Hirsch Hadorn, G. (2007). Principles for Designing Transdisciplinary Research. Proposed by the Swiss Academies of Arts and Sciences, oekom Verlag, München.
Rockström J. et al. (2017). A roadmap for rapid decarbonization. Science, 355:1269-1271.
OCDE (2017). Fostering Innovation in the public service. OCDE.
http://www.oecd.org/gov/fostering-innovation-in-the-public-sector-9789264270879-en.htm
OCDE (2014). https://www.oecd.org/innovating-the-public-sector/Background-report.pdf
Olsson, P., Galaz, V. y Boonstra, W.J. (2014). Sustainability transformations: a resilience perspective. Ecology and Society, 19(4),1.
Olsson, P. et al., (2006). Shooting the rapids: navigating transitions to adaptive governance of social-ecological systems. Ecol. Soc.,11 (1), 18.
Ostrom, E. (1990). Governing the commons: the evolution of institutions for collective action. Cambridge, New York: Cambridge University Press.
Patton, M. Q. (2011). Essentials of utilization-focused evaluation. Sage Publications.
Pelling, M.; O'Brien, K. Y Matyas, D (2014). Adaptation and transformation. Clim. Chang., 133, 113-127.
Pestoff, V. (2009). Towards a Paradigm of Democratic Participation: Citizen Participation and Co-Production of Personal Social Services in Sweden. Annals of Public and Cooperative Economics, 80 (2),197-224.
Peters, G. (2015). Public Policy: a design perspective. Advanced Introduction to Public Policy, Elgar,1-12.
Peters, G. (2018). Policy Problems and Policy Design. Cheltenham: Edward Elgar.
Piaget, J. (1972). The epistemology of interdisciplinary relationships. Paper presented at the Center for Educational Research and Innovation (CERI), Paris, France.
Pohl, C. y Hirsch Hadorn, G. (2008). Methodological challenges of transdisciplinary research. Natures Sciences Sociétés 16 (2):111–121.
Pohl, C. et al. (2008). Core Terms in Transdisciplinary Research. Handbook of Transdisciplinary Research. G. Hirsch Hadorn, H. Hoffmann-Riem, S. Biber-Klemm, W. Grossenbacher-Mansuy, D. Joye, C. Pohl, U. Wiesmann y E. Zemp (eds.), 28, 427-432. Dordrecht: Springer. Bilder.
Rein, M. y Schön, D. (1993). Reframing Policy Discourse. Fischer, F., Forester, J. en The Argumentative Turn in Policy Analysis and Planning . Durham, NC: Duke University Press, 145-167.
Rockström, J. et al. (2009). A safe operating space for humanity. Nature, 461(7263), 472.
Roe, E. (1994). Narrative policy analysis theory and practice. Duke University Press, Durham.
Selman, P. et al. (2010). Reconnecting with a neglected river through imaginative engagement. Ecology and Society, 15(3), 18.
Schön, D. (1978). Generative metaphor: A perspective on problem setting in social policy. Metaphor and Thoughts, Ortony, A (ed.). Cambridge, 264-272.
Schön, D. (1984). The Reflective Practitioner: How professionals think in action. New York: Basic Books.
Schon, D. y Rein, M., (1994). Frame Reflection: Toward the Resolution of Intractable Policy Controversies. Basic Books, New York.
Snowden, D. J. y Boone, M. E. (2007). A leader's framework for decision making. Harvard business review, 85(11), 68.
Steffen, W., Crutzen, J. y McNeill, J.R. (2007). The Anthropocene: Are humans now overwhelming the great forces of nature? Ambio 36, 614-621.
Stojanovic, T. et al. (2016). The "social" aspect of social-ecological systems: a critique of analytical frameworks and findings from a multisite study of coastal sustainability. Ecology and Society 21 (3):15.
Scheffer, M. et al. (2015). Dual thinking for scientists. Ecology and Society, 20(2), 3.
.
Snow, C. P. (1998) The Two Cultures. Cambridge & New York: Cambridge University Press.
Tschakert, P. y Dietrich, K.A. (2010). Aprendizaje anticipado para la adaptación al cambio climático y la resiliencia. Ecology and Society, 15 (2),11.
Tàbara, J. D. y Chabay, I. (2013). Coupling human information and knowledge systems with social-ecological systems change: reframing research, education, and policy for sustainability. Environmental Science and Policy, 28,71-81.
Tversky, A. y Kahneman, D. (1974). Judgment under uncertainty: Heuristics and biases.Science,185(4157), 1124-1131.
Wiek, A. y Lang, D.J. (2016). Transformational sustainability research methodology. Sustainability science: An introduction. H. Heinrichs, P. Martens, G. Michelsen, and A. Wiek (eds.), 31–41. Dordrecht: Springer.
Westberg, L. y Polk, M. (2016). The role of learning in transdisciplinary research: Moving from a normative concept to an analytical tool through a practice based approach. Sustainability Science, 11, 385-397.
Esta obra está bajo licencia internacional
Creative Commons Reconocimiento-NoComercial 4.0
.
Descargas
La descarga de datos todavía no está disponible.